The Lionshare Negotiation Performance System
What is It?
The system is built around a scalable and proven process developed at Lionshare over the past 16 years. The system includes initial negotiation competency training that can be provided in person or using our eLearning option.
The system includes access to software that acts as a guide for negotiators to create and track deals. You will make more money with higher margins using the system. People will start making offers with high aspirations, and their confidence will grow. As they learn the roadmap for managing concessions and creating bigger deals by asking for the right things in turn for a concession.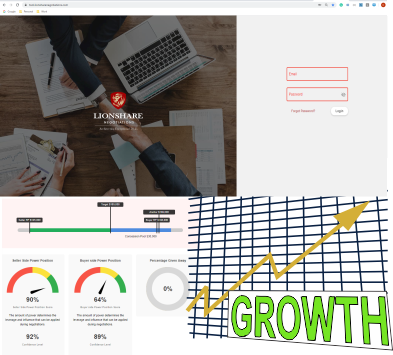 How it Helps
It speeds negotiation planning and shortens negotiation time with the other side.
Using the software guide, companies can create their own custom industry specific deal elements and data points. The most common deals can be built as negotiation templates to quickly set up future negotiations for similar deals. These templates immediately create 3 simultaneous offers that you can take right to the negotiation table with the other side.
The system creates a concession plan with financial impacts for each possible concession. Deals close faster and are more predictable.
Deal Metrics That Drive Better Outcomes
There is a metrics dashboard for every deal the team negotiates. Finally, you can answer important questions like these:
Were more concessions given than planned?
Did we close at the target we initially set?
What did we get in return for our concessions?
What did the other side value most?